Fulcrum Chemicals manufactures a comprehensive fluoropolymer surface treatment system. Produced in the United States and backed by a team of responsive staff, our Natrex line of high quality sodium-based etchants will meet even the most demanding performance specifications.
The Natrex family of products is suitable for use on any fluorinated polymer surface. The etchants are useful wherever bonding to or modification of fluoropolymer surfaces is desired.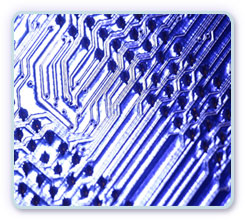 Typical applications include:
Printed circuit boards (microwave or PTFE)
Medical devices and tubing
Fluoropolymer sheet and tape stock
Wires and cables
Engineering components
Find out more on the Natrex product information page.